Nepal: Scents and views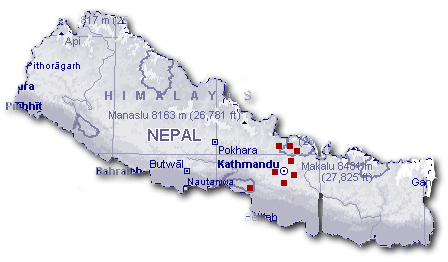 | | | |
| --- | --- | --- |
| | | In October 2000 our destionation was Nepal. The first thing you will notice when entering the capital Kathmandu is the enourmous crowd and the variety of scents. we travelled with Summum because they had the best package: Three cities of the kings, a nine day trekking, bungeejump, raften and on safari to find the rino's! |
That year we had a lot of luck with the composition of the group and the tour guide: she was the youngest of the group and it was her first trip in Nepal. This made our trip even more an adventure !
| | | |
| --- | --- | --- |
| | | The first day we directly headed for the city centre of Katmandu (we stayed in Thamel area, Hotel Norling). On Durbar Square there are a lot of historical buildings. In the palace you will find the living Goddess. This litlle girl made quite an impression on me, so we visited her five times in total... A tourguide asks if she can present hereself, and she will then stand in the open window for a couple of seconds. |
For her that life is less beautfull though: she has to present herself about a hundred times a day. Also she has to 'resign' her position when she bleeds for the first time (wound or menstruation). Afterwards nobody want to marry her anymore cause it means bad luck: the husband would die within 3 months... But of course it is a great honor for the family of the little girl.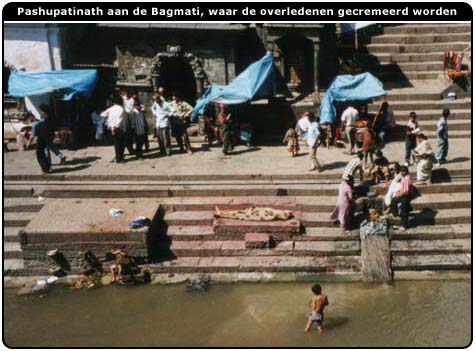 At Pashupatinath we sat and watched for an hour and a half to see how people were prepared and cremated. Preferably this happens as soon as possible after they die. Everyting happens in and around the water of the holy Bagmati river (this river proceeds to India and is called Ganges there). Life goes on; children are playing near one of the bodies and a bit further down the stream people are washing themselves with this 'poluted' water. To see this was an honor and was very impressive.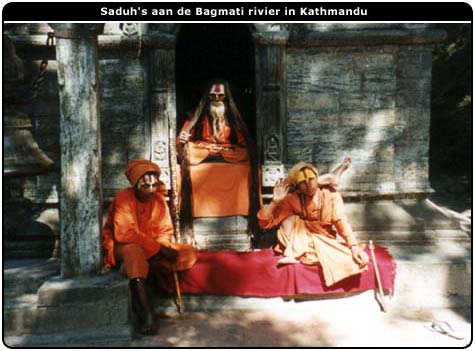 Officialy they are called saint / holyness, but they look like people from a carnival to me. For money they will pose for you with their unusual appearance or do a special trick. But it is nice to see these colorfull people at the 'tourist side' of the Bagmati river.

| | | |
| --- | --- | --- |
| | | Buddhism (from Tibet) and Hinduism (from India) come together in Nepal, and it works fine ! But, Nepal wants to show it's independant and therefore the timedifference is in between the ones of those countries; 4 hours and 45 minutes difference to Amsterdam time... |

This is a Tibettan monk at the largest Stupa in Nepal: Bodhnath. He comes down from the mountains to pray (every end of the day) and does this by walking along the hundreds of prayer-cilinders. Every night hundreds of people come down to the valley to turn these cilinders and pray. You have to do 108 prayers (holy number), by turning a cilinder. Or carry a portable version, of course this is much more convenient...


| | | |
| --- | --- | --- |
| | | Besides Kathmandu, also Patan and Bakthapur are cities of the kings in the valley. In Patan the Durbar Square is situated a bit more compact and also the style used here is a bit different (more decorative). Very impressive. |

We hired a student to show us around here. By giving these tours he could earn his tuition. His marriage was alreay arranged for him: with a girl back up in the mountains, whom he had hardly ever seen. First he wanted to learn and stand up straight; take care of himself before he was ready to take care of a family as well.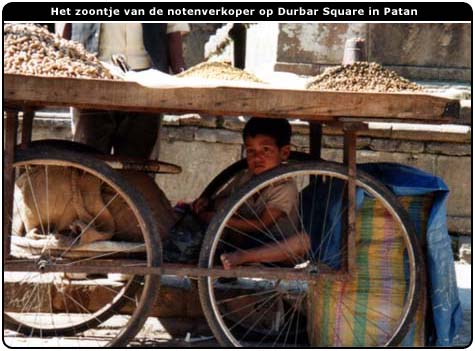 If you look at experience, Nepal is one of the best holidays we ever had. Nice impressions of really friendly people for example, but also culture, nature and action; all in one.




Our nine day trekking went through a non touristical area: Helambu - Langtang. In that period we only met 4 other groups of people. After some days of gastro entritis (diarrhoea) the first day of climbing (1000 mters) was really heavy. But after that day it was great. The climbing, the views, communicating with the porters and eating in the houses of the locals. Especially the 24 hour long Tibettan ceremony was very impressive.

Of course wherever you are in the world you run into other Dutch people... This time we met a college friend of our local G.P. on this mountain (see above).
During one of the first days I asked this girl during a tea-stop if she could write my name in Nepali. Dawa Dolma Lama is her name and for an eight year old her English was really good ! She also seemed to be very clever and as a group we decided to sponsor her by sending her to a boarding school in the next village. Because of the rebellian activity she is now at a school operated by the Dorji Trust in Kathmandu.

Click to find more information on Dawa. You will find some recent pictures and a report card we received in 2002.


We visited her village and the school and left money for the first two months immediately. Because the Maoistic rebellians destroyed the school our tourguide had to look for another school for her. She's doing fine now and recently we received her first report card.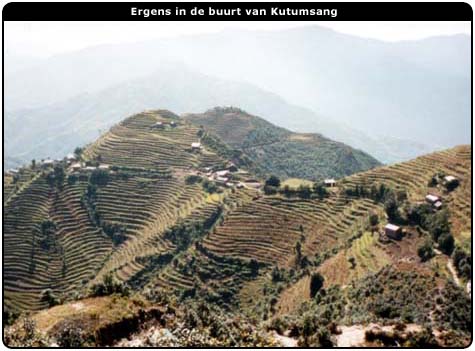 The views were spectacular and also the reception by the people was beautifull. We handed out lot's of candy, pens, balloons and tooth brushes to the local kids. The people there are satisfied with much less then us, and are therefore happy most of the time. They have a beautiful environment to live in and the probably have abetter life then us here with all the stress...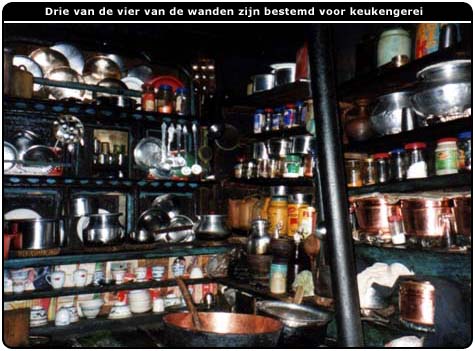 This was beautifull: a house consists of one room. Three of the 4 wall are assigned as 'kitchen' and the last one is for door and windows and a little shrine. Very night they made us a simple (no meat or vegetables) dinner in this setting. After that most of the times it as light out and rest for the next impressive day.

| | | |
| --- | --- | --- |
| | | After the trekking we rested in Bakthapur. Because no cars can drive in the city center , it actually was a perfect place to relax. We had a perfect view on the Durbar Square, from our 'luxurious' hotel. From here we could see the city wake. |
| | | |
| --- | --- | --- |
| | | Everything is for sale and everybody can deliver everything. The people are not too pushe to sell you their stuff, but 10$ for a little jar of tigerbalm is a bit much, especially way after the trekking... |

By the way, if you ever go to Nepal, make sure you only bring your toiletries and underwear. The rest you can buy here for a real bargain. Backpacks, safari trousers, T-shirts, Fleece jackets, you name it!


When we returned from Bakthapur we only had a little stopover in Kathmandu before we went to 'The Last Resort' a very basic, but beautifull resort, only 11 kilometers under the border with Tibet. It was runned by Australians. We stayed here for 2 days to raft and do a bungeejump from a 'suspension bridge' over the Bothe Kosi river: 160 meters deep.

See the jumps in a movie (2.3 mb). You need Quicktime to watch it.





We would never do a bungeejump, but the setting was so magnificent that we just had to do it. Take a close look at the picture above to see the bridge hanging over the river. From here we both jumped with the budgee rope attached to our ankles with just 'klitteband'.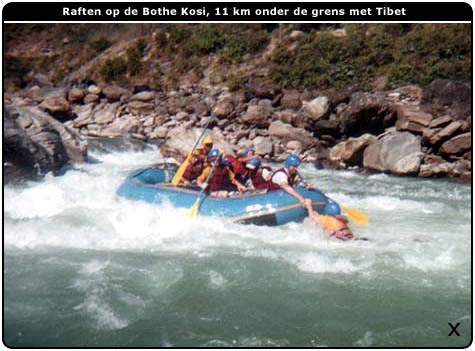 Rafting was even more exiting than jumping (that was relaxed). Rafting really gives you an enourmous kick since it looks like fighting for your life sometimes. You have to work really hard and it's a big team effort. We spent vive-and-a-half hours in the boat the second day and it was: cold, beautifull, rough and exiting. We fought rapids until the 4th category, but later in Uganda we learned that there is not a world standard yet. What was a 3 in Nepal, was a 4 in Africa. Whatever, it was wild enough: below you see me dragging a team member back in the raft...

In Chitwan National park, on the border with India we did a jeep-, canoe- and elephant safari. Of couse this last one was the best. By far !

After the trip you will have blue ribs bacause you bump into the basket continuously. Thos animals can run pretty fast, especially when they spotted a rhino. And we found the rhino's. This was our start to see the 'big five' in the wild.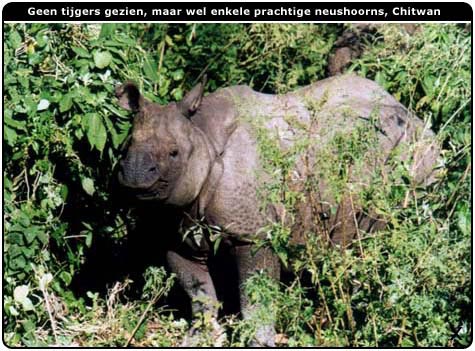 Nepal is beautiful and Summum is a good organisation to make this trip with. We would like to go to Tibet some time and if so, we definately will go via Kathmandu to visit Dawa.


< Schotland - Maya Route >